sigh…i just love getting emails and questions from you all more than i can even begin to tell you. it gives me a sense of purpose in a complicated world. (okay, that's pushing it – but it definitely gives me the warm fuzzies!) anyway, as i was saying. reader mail = awesome. liz sent in this lovely question a few days ago:
Hi, I just discovered your blog and I think it's fabulous. I was wondering if you could help me with a tricky fashion issue. I attend classes all day and after that I manage the costumes for my school's theatrical productions. I would be perfectly happy in jeans and a t-shirt, but many of the older people I'm supposedly in charge of don't take me seriously when I dress that way. I need clothes that are comfortable to work in and low key but also show that I can be taken seriously. Any ideas? – Liz
definitely! (and what a fun job, by the way!) given your line of work, i'm guessing you spend a lot of time moving around, particularly bending, squatting, and all of those other uncomfy things. so, i'm not going to suggest any skirts or dresses for you, despite my general affection for them – if you have a job in which you're occasionally going to need to plop down on the floor to fix a hem last-minute, you probably don't want to be doing it in a miniskirt.
i'm also sort of assuming that if you're a professional costume designer, you probably want your clothes to be creative and fun – not the basic black/white/tan wardrobe that's incredibly easy but incredibly dull.
when i want to look professional, but i still want to be comfortable, i head for layers every time. a t-shirt might not look professional, but put a contrasting tank under it, top it with a great sweater or jacket and a scarf, and suddenly you're looking completely professional…but you're still wearing that comfy t-shirt.
wide-legged pants are finally back in style, which is fabulous, because they're incredibly comfortable and easy to move in. add to that the fact that higher waists are back as well (meaning you won't be showing any posterior cleavage when you have to bend over to check the hem on a skirt), and you have a formula that's actually pretty perfect for your needs. i love these gorgeous velvet trousers at boden – the texture is incredible, and perfect for fall. my vote goes to the grey color, which is everywhere this season. (tip: apparently, british women are shorter than american women – so, when shopping at boden, if you need more than a 31″ inseam, order the long).
i'm also completely in love with these
helmut lang trousers. the cream muslin insert at the waist will give you amazing definition (which you'll actually want, since these hit at your natural waist, not at the top of your hips, where most of us start to widen out), and the cut is just fantastic (not to mention the price!). these are definitely a good 'investment' piece – i literally can't imagine these ever being less than stylish.
for tees that i want to pass as career wear, i tend to spend a little more than i would on weekend gear. i'm looking for pieces that won't stretch out and become shapeless as the day wears on, won't pill in the wash, and that are designed to be flattering. tall order for a t-shirt, i know. but take, for example, this long sleeve v-neck tee by nation ltd. yeah, it's $60. but you throw that on with those helmut lang trousers and a gorgeous necklace, and you'll be turning heads all day long. but, since i know we all have to pick and choose our splurges, i'd also suggest checking out american apparel – their cotton tends to be longer-lasting than most, and while it won't be that butter-soft version you'll get from higher-end brands, they're cut very well for the price. check out their 3/4 sleeve boat neck tee, and their sheer rib tee, which would be perfect for layering.
to top it all off, you're going to need something fun and eye-catching that still says "yes, i'm in charge here." i, for one, am so thrilled that long cardigans (formerly known as "sweater coats") are finally back – they're a fabulous substitute for a blazer, they cover our bums when we're not feeling particularly showy, and they keep us warm. why these are ever unpopular is honestly beyond me. i adore this version by nanette lepore – it has the perfect mix of style and substance – the cut keeps it professional, but the purple detailing really makes it unique, which should be ideal for your line of work.
jackets are also huge this fall, and i adore this cropped version from twelve by twelve (a grown-up version of forever 21). it has all the style of a piece ten times the price, but at $39, you'll have plenty left over to splurge elsewhere. the catch with these jackets is they only work if you're on the thin side. they're going to emphasize the waist, lower tummy area…so if that part of you is more or less flat, this is going to look fantastic. but if you're like me, and you were oh-so-grateful for those tunic tops that were all the rage last year, just skip this recommendation entirely. layer a longer, slim-fitting top in a contrasting color underneath, and you'll be looking sharp in no time.
i also love this cardigan by elizabeth gillett, which is a variation on the swing jackets you're seeing everywhere this fall. i love it because the color is fantastic (and much more neutral than you think it would be), and the styling is more classic, which means (a) it's more universally flattering, and (b) it'll be in style much longer.
last but not least, accessories are really going to make these layered looks into something fabulous and professional. statement jewelry is oh-so-hot right now, which means your options are practically endless. and this is really the place you can save your pennies – there are some amazing accessories out there for next-to-nothing. check out this gorgeous retro links necklace.
picture it with a black turtleneck and black slacks (another no-thought-required career-worthy ensemble). stunning, right? it's $6 at forever 21. really! if you want something a little more understated, check out the scattered locket necklace at j.crew, which i really love – it would be gorgeous over just about anything.
you might also consider picking up one or two inexpensive silk scarves & trying that look out. it's not for everyone, but if you can manage the "effortless, tossed on" scarf look, it's a great way to add color and sophistication to that t-shirt and trousers look we've been talking about. best place to start is probably ebay, actually – i love the silk scarves by missoni and vera, and you can pick up vintage versions for next to nothing on ebay. if you need help on how to pull the look together, here are a couple of places to get ideas.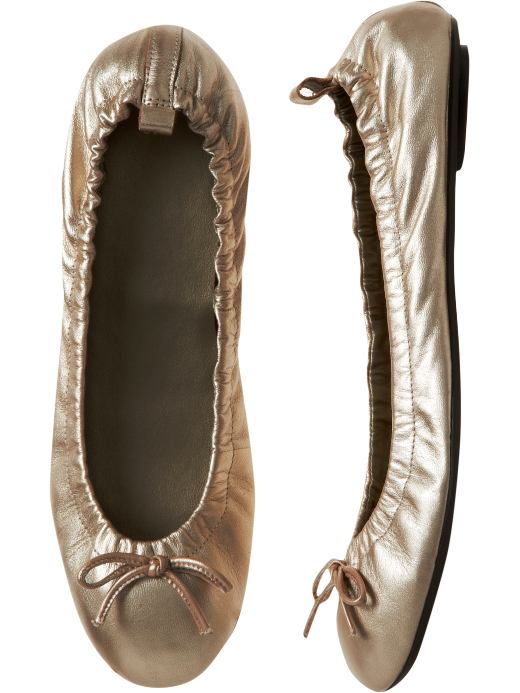 now, for shoes. if you want comfort, you probably want flats. i really do think the place to splurge in your case is on a jacket and a fabulous pair of slacks, so i'm going to suggest these gorgeous little gold ballet flats , which are just $40 at gap – so you won't mind if you get them scuffed up running around a theater. plus, they'll go with darn near anything.
whew! i'm exhausted! but your work is just beginning 🙂 liz, thanks so much for the question…i hope some of these ideas hit home for you!
---