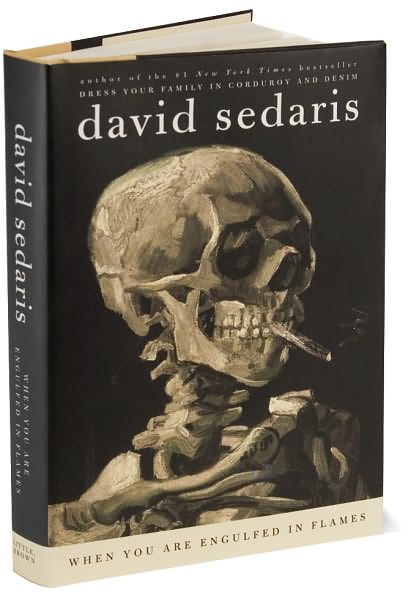 today's "weekend read" is by the lovely and oh-so-talented jessie, author of cooking with jessie, and founder of conscience tees.  talk about a packed schedule!  turns out, she's also a devout david sedaris fan, so i thought we'd get her take on his latest.
I might not be the best person to objectively review David Sedaris' newest book of essays "When You Are Engulfed in Flames", simply because I love David Sedaris so much that if he read me the back of a cereal box I would giggle. That being said these stories made me laugh out loud, on an airplane, which can make a person seem crazy. (As a side note, Sedaris is very self-deprecating; I met him at a book reading once and found him to be quite charming and geekishly handsome. I also thought he was very polite, complimenting me on my large white teeth.)

Sedaris' books are compilations of short stories based on his life.  Every story is full of strange incidents, and When You Are Engulfed in Flames is no exception.  Who else but Sedaris could recount a story of a childhood babysitter, described as:  "The first thing I noticed was her hair, which was the color of margarine and fell into waves to the middle of her back. It was the sort of hair you might find on a mermaid, but completely wrong for a sixty-year-old woman who was not just heavy but fat and moved as if each step might be her last."

His writing is something we can all relate to.  Who hasn't had a crazy neighbor, or an obnoxious person next to them on a flight?  And while many people have tried to quit smoking, you just haven't tried to move to Japan to do it – hilarity inevitably ensures.

The book encountered some initial controversy when Barnes and Noble filed the memoir under fiction. Sedaris had this to say:  "I've always been a huge exaggerator," he said, "but when I write something, I put it on a scale. And if it's 97% true, I think that's true enough. I'm not going to call it fiction because 3% of it isn't true."

Personally I think, who cares if the truth was stretched. How many times do you read a book that makes you laugh out loud? It's entertainment, not a history lesson! So, go out and pick up When You Are Engulfed in Flames – you will laugh out loud, maybe shed a tear, and wish you too had a pet spider you could show the sites of Paris. 
sounds like i have another book to add to my summer reading list!  thanks, jess!
---