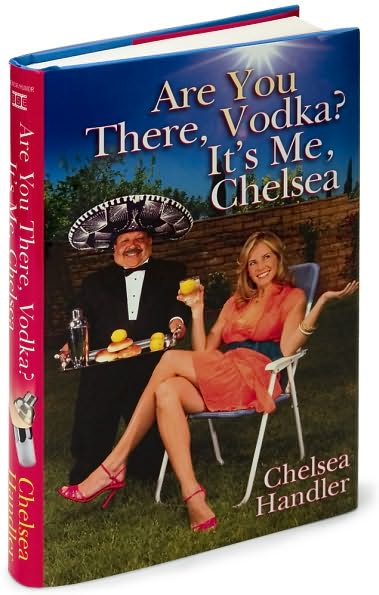 i confess that when i first saw are you there vodka it's me, chelsea by chelsea handler, at the bookstore i wanted to buy it if only for how funny it would look on my bookshelf. 
but then i saw this shining endorsement: 
"chelsea handler writes like judy blume, if judy blume were into vodka, ecstasy, and sleeping with midgets and nineteen-year-olds."  ~ jennifer weiner, bestselling author of in her shoes
i had to have it!
if you have ever seen chelsea handler's tv show "chelsea", you know that chelsea is tall, blond, leggy, gorgeous and loves midgets.  you want to hate her until she speaks.  the girl talks like a truck driver, has a dry wit, and laughs at her own jokes the way we all do when we have been drinking too much.  chelsea is a 'mean girl' but in the funny way that makes you still want to be her best friend.
without giving too much away, chelsea chronicles such gems as:
going to a costume party as an m&m in february and not having panties on.

 

dating men with red hair.  enough said.

 

making an appointment with a hot gynecologist to try and score a date.

 

and my personal favorite (no i don't condone drinking & driving):  prison break, the story of her first DUI, which landed her in jail for stealing her mormon sister's identity.

 
the essays are all peppered with off-the-cuff jokes about celebrities.  aren't you dying to know why maddox jolie-pitt always looks so pissed? 
i actually enjoyed are you there vodka it's me, chelsea so much that i ran out to buy  her first book, my horizontal life.  both are quick reads, and great for lounging by the pool.  just try to resist the urge to read passages aloud to your lounging partner – they might try to steal it! 
next time, i'll tell you about something that is not a memoir, although truth is sometimes funnier than fiction!
---