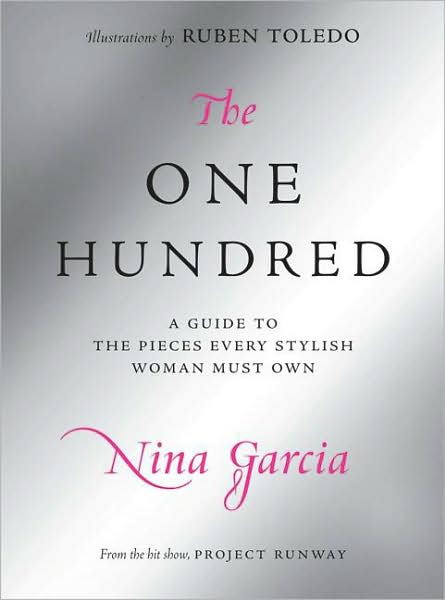 i'll admit, i was a little skeptical of nina garcia's new book, "the one hundred".  to begin, i really know her only as my favorite judge on project runway…"nina-garcia-fashion-director-of-elle-magazine" (spoken in a fantastic german accent).  i absolutely live for her bitchy comments about some of the heinous designs on that show.  but i wasn't sure i was willing to put my entire wardrobe in her hands.
moreover, the title made the book feel like an extended version of that "classic 10-piece wardrobe" myth you hear the occasional fashion guru spout about.  i don't know who these people are, but i'm pretty confident they have a great deal more than 10 items in their closet.  100 sounded more do-able, but i had to wonder if it was possible for any list to truly encompass every woman's basic wardrobe needs.
fortunately, nina seems to know this.  she makes it clear at the outset that her "list" is really just a guide, and that it wouldn't be style unless you put your personal spin on it.  fair enough. 
there's nothing truly remarkable on this list, except possibly the image of nina garcia wearing converse sneakers (which i simply cannot conjure).  some are obvious: the little black dress, opaque black tights.  some are not necessarily pieces i would have put in a "must own" category:  frye harness boots, a cape.  i'm not entirely on board with what she deems the four handbags on the planet worthy of a splurge, if only because i think the most important thing about a truly investment-worthy bag is that you absolutely, wholeheartedly adore it, and can't imagine your life (or, at least, your wardrobe) without it.  but i can't deny that her choices are solid classics.
despite my departures from nina's style on several points, i still loved the book.  for a fashion novice, it's a great working checklist, and it provides some timeless words of wisdom (ie, when you buy animal print, go designer – cheap animal print looks just that).  for someone a little farther up the educational ladder in this arena, there is still plenty to learn from nina.  i finally figured out, for example, what all the fuss is about wolford tights.  they're $80, so i've always just mocked and moved on.  turns out, there's a whole system of weights and measures when it comes to tights, and wolford is the only manufacturer that makes the 80-denier (ie, the most opaque) tights out there.  who knew?  i also never knew that real camel hair is gathered from a camel's underbelly by professional camel hair gatherers who follow camel herds around the desert, collecting these hairs.  no wonder that coat i wanted last year was $4,000.
like any "guide," it's not perfect – it's just that:  a guide.  if anything, it intentionally doesn't reflect nina's personal style…it's general enough to allow you to find your own style within its confines.  or to decide for yourself, like i did, that frye harness boots aren't necessarily an essential part of your wardrobe…but maybe those loeffler randall flat boots i've been after for a year now would be a good substitute.
whatever your level of expertise, i'm pretty convinced nina has something to teach us after all.  grab your copy today, and let us know what you think.
---