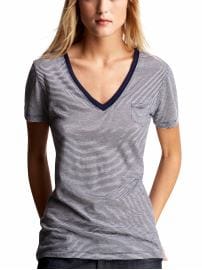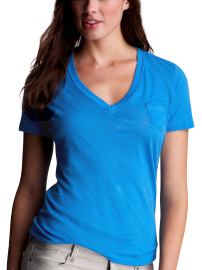 last summer, i picked up a navy tee at the gap.  it wasn't much to sing about…i'm not even sure i tried it on.  i just realized i didn't have one, and threw it on the pile.
little did i know that it was about to become my absolute Favorite Tee Ever!  yes, it has beat out choices from banana, jcrew, and even my pricey james perse and splendid tees.  it's velvety soft, light as air, and cut to be a slouchy, relaxed fit…but without looking sloppy.  because it's not built to be fitted, it's the perfect layer over or under just about anything.
so, i headed back to the gap a month (or two) later to fill my tee drawer with these wondrous creations…and they were gone.  ack!
but yesterday, joy and rapture at the gap, for my favorite tee is back!  turns out it's a spring-only thing (probably owing to the featherweight fabric), and i'd grabbed from the last shipment in '08.  
now that they're back, i've stocked up…and so should you.  they're only $11 each if you buy two (and you should).  i'd suggest heading to a store – mine had considerably more color options than i'm seeing online.  ooh, and don't miss the striped styles – with their pin-thin stripes and contrast trim, they're perfectly wearable and actually flattering.
---