(all photos courtesy of taschen)
it's getting to that time of year when i'm restless, and just desperate for a vacation.  but, times being what they are, i'm relegated to daydreaming about fabulous locations.  for me, it's not so much about the sightseeing (though i do that too).  it's about the shopping (duh), the food, and the people-watching….just relaxing and "being" in a city.  if you're the same, you're going to love taschen's paris.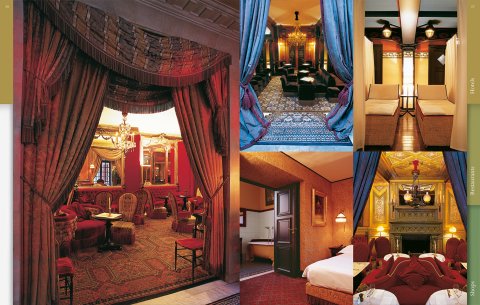 this is quite possibly my favorite "picture book" of the year (though i know it's only march).  it's essentially the perfect marriage of a coffee table book about a city and a guidebook – you get the best of both.  rather than the traditional travel book about cathedrals and museums, taschen's paris is devoted to three things:  hotels, restaurants and shopping.  the book is broken down into those three categories, and is piled high with gorgeous photos of the best in each group.  it's exactly what i wish every guidebook could be…though it's definitely not portable.  you get photos of rooms, lobbies and salons in the best hotels in paris.  you'll see fantastic plates of food and the most perfect sidewalk cafes for people-watching.  and the shopping section…le sigh!  you'll get photos of every stunning flagship store in paris (hermes, louis vuitton, etc), but you'll also find out about the little hidden gems – sometimes so hidden, they don't even have a storefront!  
if you're craving a vacation, but paris isn't in your budget this month, taschen's paris will get you as close as you can get without boarding a flight. splurge on a box of macarons (the next best thing to sitting in the laduree tea salon), brew a lovely cup of tea, and curl up in your favorite chair with this book.  you'll be transported, i can promise you that.
leaf through some of the amazing photos at taschen's website (warning – you'll become a fast addict to the rest of taschen's publications!), or at amazon.  and stay tuned…i predict more wanderlust ahead!
---