welcome to this week's friday finds!  i have a pretty fabulous weekend brewing…tonight kicks off the greek festival here in portland, an event i wait longingly for every single year (mmm, gyros and baklava!).  and later, hubs is whisking me off for an overnight shopping excursion to seattle (barneys! club monaco! madewell!)!  so, without further ado, let's get this show on the road so i can start making my shopping list.
i'm a little too excited about these baking books by the talented duo behind baked in brooklyn…when the box from the publisher arrived, i actually squealed.  but with good reason: their first book has been on my wishlist for ages (if only because in it, they divulge their now-legendary brownie recipe), and their newest title, baked: explorations, just released this very day, and promises even more high-calorie wonderfulness.  now that fall weather has settled in, my kitchenaid mixer will be coming out of hibernation, and i can hardly wait to try out some of these recipes. what can i say, they had me at "peanut butter crispy bar."  (or was it at "ginger rum molasses cookies"? or "red velvet whoopie pie"?  or…)
i wasn't sure i was going to show this one off, as i'm still hoping to take a closer look at these pricey pieces before i fully commit (and drag you all along with me). but while i'm waiting, and can't resist showing you all this initial necklace by jennifer zeuner any longer.  i'm obsessed with the antique styling, and i think it would be the perfect 'wear every day' piece to layer with longer pendants.  the price is a little daunting (ahem, $760), but those are real diamonds, and i've scoured the web without coming up with a single adequate substitute.  with fall's new trends heading back toward classic pendants, this one is high on my list for number one.
last but not least, we'll be talking more about the gap next week, but i tried on this mariner top last night at the store, and it's well worth your $34.50.  it's made of a very thick, sturdy knit, and fits like a dream – a better, more tailored version of the infamous saint james shirts, but at less than half the price, this is a no-brainer.  oh, wait…did i mention you can take 25% off today with code GAPSAVE?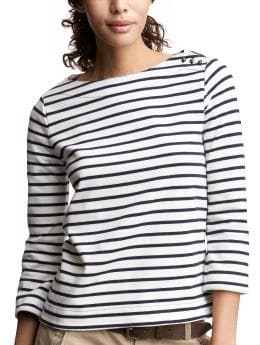 have a great weekend, everyone!
---