happy friday, dear readers!  i hope you enjoy this week's collection…i may not be able to stop myself from buying nearly all of this week's finds, but fortunately, i think i'm priced out of at least one.
i got an email that my lovely le train bleu is celebrating its ninth birthday this month (by offering 30% off sitewide! code is "number9"), and couldn't resist a stroll through their virtual racks.  it could be these amazing photos, but i'm going absolutely crazy for this bande a part coat, and have been trying to convince myself that adding just one more to my closet can't possibly hurt.  it's not a lie if you believe it.
loving this mod reinterpretation of a classic strand of pearls from etten eller. you could pair this with the preppiest of looks to give it just a touch of downtown edge, without letting go of your uptown roots.
i noticed this ruffle cardigan in the gap recently, and did a double-take because it seemed so out of place.  it reminds me so much of a piece by clu or 3.1 philip lim or alexandar wang, but there it was, right in the middle of the gap and selling for $79.50.  they're calling it a cardi, but it's really more of a jacket to my eye.  what an amazing transition piece for spring…jeans and tees now, obviously, but how sweet layered over a floral dress in the summer, as a fashion-forward alternative to the biker jacket everyone else will be wearing.  that hazy purple is still around in stores…but i'd move fast.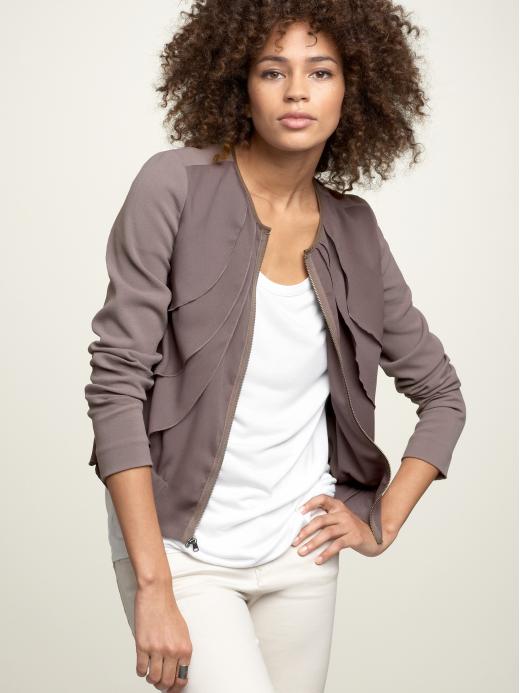 and last but not least, did you hear that john robshaw had designed some pieces for lucky brand jeans?  as usual, his block print fabrics are utterly dreamy to look at, and i confess that i've always wanted to swathe my entire body in one of his quilts.  these new styles will be considerably more chic than wearing a quilt, and unbelievably perfect for summer.  my favorite is this tunic dress – i'm dying to be a tunic girl like tory burch.  i'd never wear it solo, as i am not 17 or a runway model.  but i do love it styled with denim shorts or a slim pant.
have a great weekend, everyone…and happy valentine's day!  i hope you have the good sense to buy yourself some chocolate and flowers in celebration…that's what it's all about, after all.
---