in honor of the movie du jour, julie & julia, i thought i'd share a few of my favorite foodie finds of late.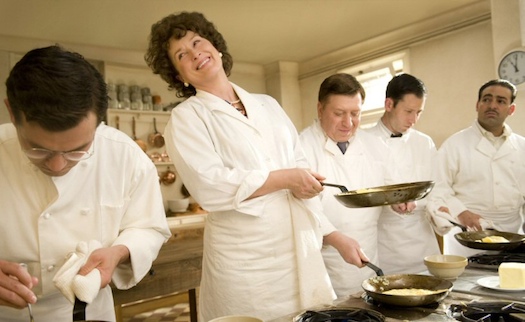 speaking of the movie, if you're looking for a way to spend a few hours of your weekend, i have to admit that i loved julie & julia when i saw it last weekend.  for fans of the book, i wouldn't worry about being disappointed…the two are really only the same in concept.  i wasn't crazy about the actual "adaptation" of the book (as usual), but if i'm being honest, i loved that we saw so much more of julia child in the movie than you do in the book.  if nothing else, you have to see it just to be amazed by meryl streep's portrayal of julia child: it's utterly amazing.  see the movie, and then stop by your neighborhood bookshop and pick up the novel – they're so different, you'l have no problem enjoying both.  oh, and then go out and buy something amazing to cook. trust me, you'll be in the mood!
i'm finding absolutely everything at maryhill clayworks to be utterly charming this week.  i love the free-form, crumpled glasses, i love the exaggerated bumps on their "bumpy bowl,"…this whole table just looks like such a cozy, warm setting.  and oh goodness, please don't get me started on the chocolate ware collection.
i actually couldn't believe it when i found out this stylish, chic kitchen storage collection was from ikea.  ikea!  as in, not one of these pieces is more than $10.  i'm dying to pick up a whole stash of those canisters (left) for my dry goods, and i'll use the "soy sauce" pitcher for balsamic vinegar, i'm thinking.  those sweet little spice bowls?  for the salt and pepper next to my stove, naturally.
and if none of that inspires you to head to the kitchen this weekend, i'm willing to bet my favorite food blogger will.  happy friday, everyone!
---