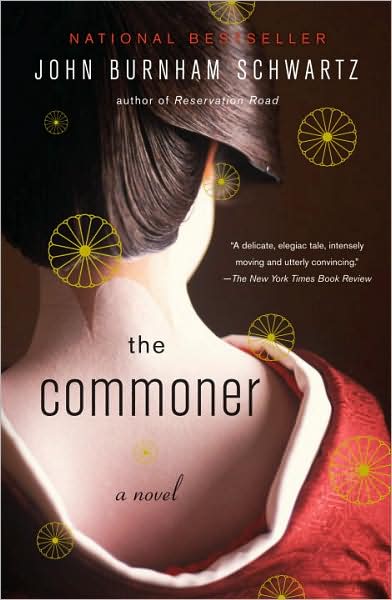 two fiction genres i just can't get enough of:  profiles of royalty (the other boelyn girl) and stories about asian cultures (memoirs of a geisha, snow flower and the secret fan).  both are varieties of historical fiction, but they focus on worlds that are completely and totally foreign to me, and i find both just fascinating.  so, when i spotted the commoner on a shelf at my local barnes and noble, i had to take a look.
the commoner tells the story of the first empress of japan to enter the royal family as a commoner.  the book chronicles empress michiko's days in school, her meeting and courting the crown prince of japan, and, most interestingly, the trials she encountered once she entered the royal family.  author john burnham schwartz paints a remarkable portrait of a woman who entered into a world she couldn't possibly have anticipated, and one that she quickly realized was far more than she bargained for. 
what i loved about this book was the portrait schwartz paints of the lead character…i couldn't help rooting for her at every turn, wanting her to find her way in the maze of tradition and rules in which she found herself.  and, i admit…i couldn't stop reading this one, if only because i so desperately wanted to see…well, let's just say (to avoid a plot spoiler) that i kept waiting for some of the characters to get their due.
if you're like me, and the newest philippa gregory or lisa see book has you running to the bookstore, pick this one up – i predict you'll have a hard time putting it down.
oh, and i happen to have an extra copy of this one on hand…so if you're interested, drop a comment here with the last book you read – i'll draw a winner tomorrow morning 🙂
---